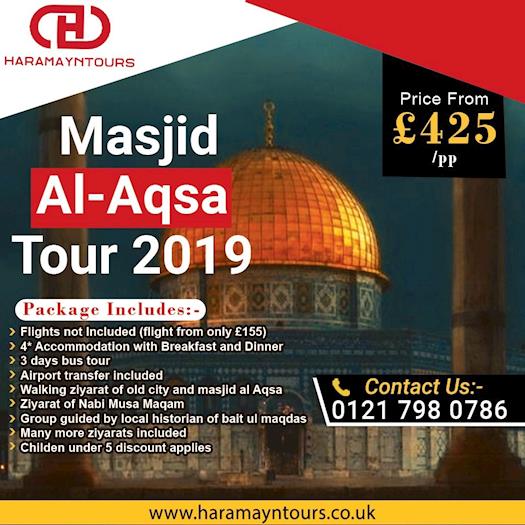 Other Blogs Posted By:
Haramayn Tours
The premises of Old Al-Haram and Al-Sharif and the noble sanctuary, there is the third holy site in Islam after the blessed sites of Makkah and Madinah and that is Masjid-al-Aqsa. The mosque Al-Aqsa is beside the dome of the rock and It is explained in history that Prophet Muhammad (SAW) ascended to heaven from this spot. Muslims love to see every spot that their beloved Prophet Muhammad (SAW) stayed on and same is the Masjid Al Aqsa that is a place loved and admired by Muslims and it's their utmost wish to visit the mosque. And for that, there are many Masjid Al Aqsa Tour packages to make their trip memorable.
Masjid Al-Aqsa and its relationship with Prophet Muhammad (SAW)
Being a visitor of Masjid Al Aqsa and staring at the sites and beauty of the first Qibla of Islam lost in glorious history and incidents of Prophet Muhammad (SAW) will be a great chance of one's life. This holy site has excellent level of glory in Islam that if a Muslim says one prayer here, its equivalent to two hundred and fifty prayers that are offered somewhere else. Getting a tour guide who is knowledgeable and is completely aware of the place and its history then adds to the joy. Masjid Al Aqsa has been the blessed site where all the prophets have gathered to say prayers.
A holy site that Muslims love to visit
The place is linked with many prophets. The mosque was built by Prophet Ibrahim (AS). This is the site where Prophet Muhammad (SAW) led prayers. The mosque is site of miracles and it defines Islam in a genuine way and was the first Qibla. People with utmost love for prophet and the holy Islamic landmarks look for traveling management agencies with extraordinary tour packages with the essentials and amenities needed to get your trip finished in a joyful way. Haramayntours is one of the best traveling agencies providing Masjid Al Aqsa Tour packages to suit your needs.
Tour Packages to make your trip great and memorable
The packages designed to help travelers explore everything about Masjid Al Aqsa particularly include 4 star commodore hotel, provision of breakfast and dinners, airport transfers, 3 days bus tour, walking ziyarat of the holy mosque, Jumma at Masjid al Aqsa, tour guide by local historian and many more other ziyarats. With the exclusive packages by trusted traveling agencies. These tour guides will make you explore the site by revealing unknown secrets and stories during a walking tour. Walking on the place graced by Prophet's footsteps once is a great joy and sensational experience. Muslims discover rich stories, incidents and history of the farthest mosque.
In Masjid al Aqsa Tour Packages, pilgrims get a knowledgeable and local tour guides and with them you will listen to inspiring lectures about history of holy sites, Islam and Hadith to make your journey unforgettable. Muslims are considering it a religious duty to visit Masjid Al Aqsa particularly the muslim scholars have outmost desires to visit the holy site. So, choose a best traveling management partner to book your trip now!
Author:
Omar Rashid
Viewed:
3 Views
Check Out All Of Haramayn Tours's Images, Blogs, and Products!
Comments:
| | |
| --- | --- |
| Posted By: | Haramayn Tours |
| Location: | Birmingham, England > West Midlands |
| Storeboard City: | Birmingham, United Kingdom |
| Phone: | 01217980786 |
| Description: | Haramayn Tours offers one of the largest range of Umrah Packages. Our cheapest Umrah includes the finest hotel accommodations and low-cost flight bookings. We keep offering discounted Umrah offers to suit the requirements of travelers according to th... |
| Website: | http://haramayntours.co.uk/ |
| | |